Feyna's Quest
Feyna's Quest is a plot-driven platform game with role-playing elements. Join Feyna, a young dark elven sorceress, on an epic quest across three worlds. Now with online demo!
Trigger warning: contains fire, spiders, implied torture, and religious/racial genocide. The genocide is at the core of the story, the others are fairly low-key.

| | |
| --- | --- |
| Status | Released |
| Platforms | Windows, macOS, Linux, HTML5 |
| Rating | |
| Author | Eldwood |
| Genre | Platformer |
| Tags | 2D, Action-Adventure, Fantasy, Female Protagonist, Magic, Metroidvania, Pixel Art, Singleplayer, Story Rich |
| Average session | A few hours |
| Languages | English |
| Inputs | Keyboard, Gamepad (any) |
| Accessibility | Configurable controls |
Purchase
In order to download this game you must purchase it at or above the minimum price of $5 USD. You will get access to the following files:
feynas-quest-win32.zip
13 MB
feynas-quest-win64.zip
13 MB
feynas-quest-linux32.zip
7 MB
feynas-quest-linux32-3.2.0.AppImage
7 MB
feynas-quest-linux64.zip
6 MB
feynas-quest-linux64-3.4.5.AppImage
6 MB
feynas-quest-mac64.zip
8 MB
Download demo
Comments
Log in with itch.io to leave a comment.
I got a bit stuck on where to go next but I did enjoy what little I did play
Tried to run this on my Linux system(SteamDeck specifically) and it bricked my entire system on start up which is rather impressive. I can't even log in anymore and it's now trapped in an internal loop of logging in. Honestly surprised how it broke everything
Edit: You didn't crash my system, but instead it crashed and permanently destroyed Steam?? I wasn't even trying to run this game through Steam, so I have no clue how that broke. So it turned my SteamDeck into just a Linux computer
This obviously should not have happened, and I have no idea how it happened.
I'll try to get a SteamDeck myself to see if I can replicate this, but it'll take up to two weeks for it to arrive and more time to actually debug. In the meantime, you'll probably have more luck contacting Valve for support.

Yeah, no worries. Could be a Valve issue or some weird thing I did. It's an easy enough issue to fix on my end and absolutely inexplicable with no clear causes. If you wanna know the series of events that happened, I'll give you it.
-I was testing out various games to see if they work on Steam OS. A few didn't work or I messed something up
-I then try to get them to run through Steam so I can play through Gaming Mode

-Feyna's Quest didn't load through Steam, so I thought I must've messed up the path or perhaps it just won't run that way as a few games don't
-I go to the folder that holds Feyna's Quest and click on an executable named something like "Feyna's Quest" to test if it's actually the game (I don't remember the exact name)
-In the task bar below, a program icon I don't quite recognize opens and I click on it
-This causes the screen to constantly alt tab through every single window constantly and flicker and be unresponsive. So I forced shut down
-When I restarted, I could no longer log in to Steam since it would crash on log in and it rendered gaming mode unusable
Here's a quick note of things I tried to do before testing Feyna's Quest. I tested out a few games using the same method I did and most worked well enough but there were a few problem entries. I tried to get Anodyne working not realizing that the Linux version was no longer supported as it relies on a now defunct Adobe Service. And the program it tried to run to download the non-existing Adobe program looked similar but might've not been the same. The issue could instead be caused by circumstances far before the game and Feyna's Quest might've been just the game to open an already corrupted folder and cause the cascade
I've tried replicating the issue on my steam deck, here's what happened:
- I've installed Feyna's Quest through the Itch Linux Desktop App
- I started it through the itch app (while in desktop mode)
- The screen started to flicker rapidly, The mouse snapped back to the center of the screen
- I could still see my desktop, and tried shutting the down through the application launcher menu, which didnt seem to work
- I ultimately shut down the device by opening the konsole and typing in shutdown
- The deck boots back up normally, though it did show a screen of "verifying installation" (which sometimes happens if it's not shut down correctly)
All in all, it's fine now but the game doesn't start properly and produces this visual problem on my end
The game is so tiny even in full screen. The game screen is only about 25% of the entire screen. Dark purple text on a black background is a bit tough to see. Left control stick feels overly sensitive, like easy to accidentally push up to go in doors when I'm trying to walk by. I can't find the final green slime in this hall of doors.
I can select my Xbox One controller in the input selection option in settings, but it is unresponsive. Is this a known problem?
I think I see the problem. Now working on a fix...
This should hopefully be fixed now.
Hey, sorry for the late response (didn't see the email notification!). Thanks for the reply but unfortunately it doesn't seem to be working still.
Just to clarify, It's a wireless Xbox One controller (connected through wireless dongle), I start the game up (with the controller already connected), use the keyboard in menu to select Settings->Input->Select controller->XBOX One S controller #1 but there's no response. I can see that the buttons are assigned there too. I wonder if the fact that it's wireless (not bluetooth) makes a difference?
Anyway, thanks again for the reply :)
Controller works with new update! (3.4.4)
Thank you very much :)
The screenshots look somewhat interesting but not entirely convincing. Maybe you have a video showing off this project?
I started playing the demo and getting into it, but it crashes every time I try to enter this door (image attached). Win 10 machine, relatively up to date.

I want to buy the game but am worried I'll have this issue here as well; it doesn't seem to be the end of the demo as hitting up here crashes to desktop. If the dev sees this, I'd appreciate some feedback on if they think this occurs in the full game or if they'd be willing to refund if I buy and can't make it past this point.
I started a new game in the demo at Chapter 2 to see if it was a bug with the save file, and run right to this door, but it still causes CTD.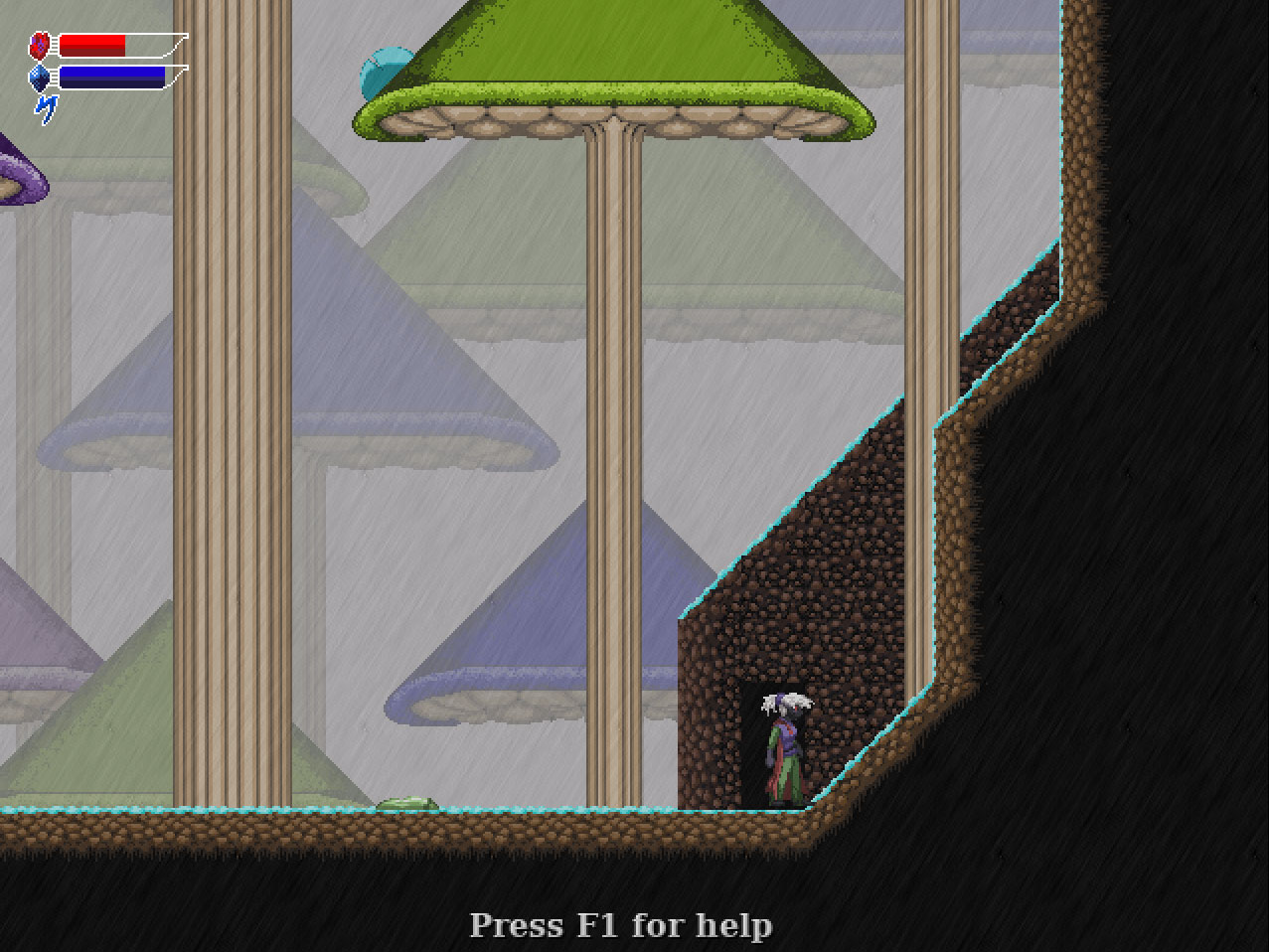 Nevermind! I just went for the purchase and had no problem entering that door. Maybe just a bug in the demo.
I remember this game and your other games from WAYYYY back in the day.
The Feyna's Quest demo was one of the first PC games I ever played. It was fun for the time.
Should let others know that you have a bonus episode on your website as well: